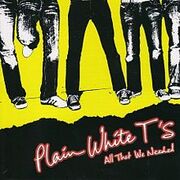 All That We Needed
is a 2005 album by the Plain White T's. This is also Plain White T's second album with Fearless Records
. In July 2007, after the release of
Every Second Counts
, the song "Hey There Delilah" was re-issued as a single and sold unexpectedly well, hitting #1 on the Billboard Hot 100.
Tracks Listed on this Album:
Ad blocker interference detected!
Wikia is a free-to-use site that makes money from advertising. We have a modified experience for viewers using ad blockers

Wikia is not accessible if you've made further modifications. Remove the custom ad blocker rule(s) and the page will load as expected.