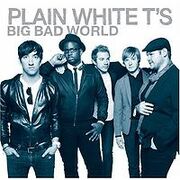 Big Bad World was released in 2008 in association with Hollywood records inc.
The album was hounded by reviewers, with the Album Project giving the album a score of 2/5 and saying "the new Plain White T's seem to be making music with the intention of not simply becoming a one hit wonder ("Hey There Delilah") and "making it big" but in the process have watered down everything." AbsolutePunk.net reviewer Chris Fallon gave the album a score of only 24%, saying "the band continues their steep decline by writing some of the cheesiest, most gimmicky songs even Kidz Bop wouldn't consider covering".
Song Listings
Edit
Ad blocker interference detected!
Wikia is a free-to-use site that makes money from advertising. We have a modified experience for viewers using ad blockers

Wikia is not accessible if you've made further modifications. Remove the custom ad blocker rule(s) and the page will load as expected.