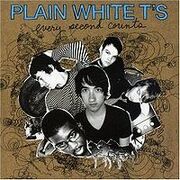 The most popular of the albums, every second counts is an overall amazing album in almost every Plain White T's fan. Every Second Counts also is the fourth studio album released by the Plain White T's. It is the first Plain White T's album to be released on Hollywood Records along with Fearless Records. The album peaked at #10 on Billboard 200 on July 29, 2007[1] and was certified Gold by the RIAA in October 2007[2]. Every Second Counts peaked at #3 on the UK top 75 albums.
Tracks on this ALbum Include:
Hold On (Bonus Track)
Friends Don't Let Friends Dial Drunk
Ad blocker interference detected!
Wikia is a free-to-use site that makes money from advertising. We have a modified experience for viewers using ad blockers

Wikia is not accessible if you've made further modifications. Remove the custom ad blocker rule(s) and the page will load as expected.