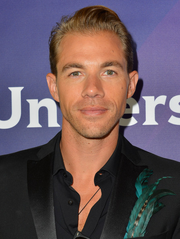 Write the first paragraph of your page here.
Tim Lopez
Edit
Tim Lopez is a member of the band Plain White T and one of the bachelors of the first season of NBC's Ready for Love. He grew up in Santa Barbara, California and has an older brother and younger sister. He married his first love, and high school sweetheart, Whitney Hardin, but after 11 years of being together, the couple parted ways. Despite of this, he still believes in marriage and hopes to meet his match on the reality dating series.
Rhythm of Love
Edit
Tim, aside from Tom is the only member of the band to have sung any songs on the albums. Tim sings Rhythm of Love, the giving tree, and Body Parts both on the most recent Plain White T's Album.
Ad blocker interference detected!
Wikia is a free-to-use site that makes money from advertising. We have a modified experience for viewers using ad blockers

Wikia is not accessible if you've made further modifications. Remove the custom ad blocker rule(s) and the page will load as expected.